On 29th November (Wednesday), the 8bp050.8bitpeoples.com site will be open, and there will be information about 8bitpeoples's much hyped 8BP050 compilation.
The compilation will be available at the Blip Festival as well as for sale online, and will have 2 physical CD with 25 tracks by 25 artists on each CD. The 3rd 'bonus' CD will be available only as a download, and will feature 20 tracks by another 20 different artists. To sum, a compilation with tracks by 70 of the best chiptune artists on the world!
11月29日(水)、いよいよ8bitpeoplesの待望のコンピレーションアルバム「8BP050」の情報が見れるサイト8bp050.8bitpeoples.comがオープンになります。
このコンピレーションアルバムは、NYで行われるBlip Festivalで購入できるほか、インターネットでも購入できます。2枚組のこのアルバムには、それぞれに25人のアーティストが1曲ずつ曲を提供しており、トータルで50曲。さらには、HPからのダウンロードのみ入手可能な3枚目のボーナスCDもあり。こちらにはまた異なる20人の20曲が入り、全てを合計すると世界トップのチップチューンアーティストの中の70人の曲が聴けるコンピレーションアルバムということになります!
El miércoles 29 de noviembre se abrirá la web 8bp050.8bitpeoples.com, donde habrá información sobre el muy esperado recopilatorio 8BP050 de 8bitpeoples.
El recopilatorio consistirá en 2 CD que estarán a la venta tanto a través de internet como en el Blip Festival, más un tercer CD extra que estará disponible mediante descarga desde la propia página. Con 25 temas de 25 artistas en cada uno de los 2 CD físicos, y 20 temas de 20 artistas más en el CD extra, se trata de una recopilación en la que han participado 70 de los mejores artistas chiptuneros del mundo.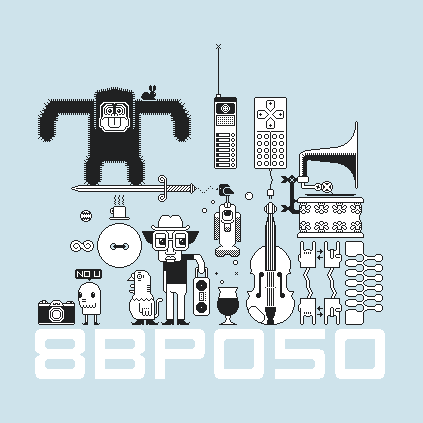 Of course, pepino's new song Faster Than Time (available for listening here) is included, too. And below, you can see the list of all artists whose tracks are in the compilation.
もちろんpepinoの新曲「Faster Than Time」も入ってます!(ココで聴けます)下記のリストが、このコンピレーションアルバムに参加しているアーティストです。
Por supuesto, el tema de pepino Faster Than Time (que se puede escuchar aquí) está incluido. Y a continuación podéis ver la lista de todos los artistas que han colaborado en la recopilación.
Disc 1:
4mat, 6955, Anamanaguchi, Aonami, Bubblyfish, Mark DeNardo, gwEm and Counter Reset, Hally, Mesu Kasumai, Kplecraft, David Kristian, Nullsleep, Pepino, Rabato, Random, Receptors, Rugar, Saitone, David E. Sugar, TouchBoy, Tugboat, USK, Vim, x|k, YMCK.
Disc 2:
8GB, Bit Shifter, Bodenstandig 2000, Chesterfield, Coova, Covox, Crazy Q, The Depreciation Guild, Glomag, Goto80, Lo-bat., Maru, Bud Melvin, minusbaby, Naruto, Tristan Perich, Quarta330, Paza Rahm, RushJet1, Starpause, Jeroen Tel, Twilight Electric, Virt, Neil Voss, Herbert Weixelbaum.
Disc 3 (online):
8 Bit Weapon, CapitalSTEPS, Chibi-Tech, Cow'p, Firebrand Boy, FirestARTer aka Frau Holle, Gijs Gieskes, Huoratron, M-.-n., Alex Mauer, Nim, Overthruster, Postal_m@rket, Psilodump, Role Model, Trash80, Markus Schrodt, Sputnik Booster, Yes Robot, Zabutom.