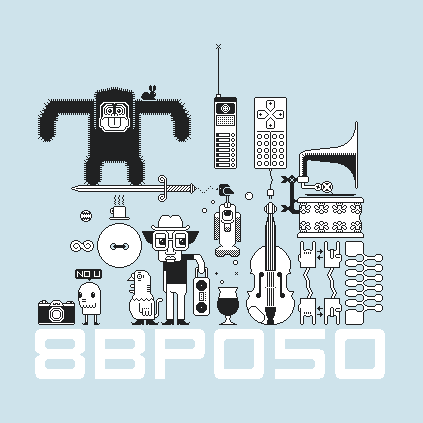 [audio:http://blip.tv/file/get/Pepino-fasterThanTime344.mp3]
[blip.tv | Download]
Faster than Time es una canción de pepino que salió en el recopilatorio 8BP050 del sello 8bitpeoples, conmemorativo del primer Blip Festival. Hoy la dejamos a vuestra disposición bajo una licencia de uso Creative Commons del tipo Reconocimiento–No comercial–Compartir bajo la misma licencia. Disfruta de la música y ¡comparte la música! Y mil gracias a USK que nos la mezcló y editó enterita, por eso suena tan bien.
Faster than Timeは8bitpeoplesというレーベルの最初のBlip Festivalを記念に発売された8BP050というオムニバスに収録されたペピーノの曲。今日はクリエイティブ・コモンズの表示–非営利–継承というライセンスで公開します。音楽を楽しみましょう。音楽を共有しよう!そして曲を編集してくれたUSKには感謝してるぜ!おかげでカッコよく聞こえる。
Faster than Time is a song by pepino that was in 8bitpeoples's compilation 8BP050, which was released at the first Blip Festival (where of course we played). Today we're publishing it under the Creative Commons Attribution–Noncommercial–Share Alike License. Enjoy the music, and share the music! And thanks a lot to USK who edited it for us – it's thanks to him that the track sounds this cool.
Letra 歌詞 Lyrics
the crystals align inside the LCD
feel the vibration of quartz
hear the sound of electrons
running through conductive
tracks on the palm of your hand

now that we have set the stage for our play
we can let the action begin
our feelings blow out like a hurricane
to wrap you up in our gratitude

sons of the Z80
listen to our song
they have chosen us
and we have heard the call

no matter how far away
we will make our mind
flying on wings of fire
we leave time behind

'cause we are FASTER / than your casio watch
SMOOTHER / than a four megahertz quartz oscillator
LOUDER / than your alarm watch
MORE POWER / than your power metal band

time goes by / but we go further
analog output / makes us stronger
we are standing / miles away from home
but we'll come again / to thank you